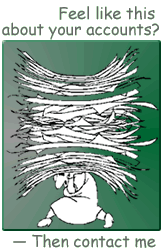 Elsa L Jones ACCA MAAT
Bestbrook
New Radnor
Presteigne
Powys
LD8 2TG
Tel/Fax 01544 350214
Accountancy and Taxation Services
I have over 20 years experience in the provision of accountancy and taxation services. I work from home in fully equipped offices and can work with most book-keeping and accountancy software —so accounts completion and all other aspects of your accountancy and taxation affairs can be completed electronically if you wish.
All my accountancy services are available over the internet as well as through local visits. I live and work in the Welsh Borders. Whilst I very much enjoy seeing my clients, there would appear to be no geographical limit for an accountancy practice and many clients are happy to deal by correspondence, telephone and fax. Email is fast becoming an efficient way to communicate for those with a computer.
I can provide a full Accountancy service for small businesses ranging from sole traders to partnerships and medium sized family companies. The services I provide are basically everything a small business owner will need from saving tax to accounts preparation and staff payroll.
Many of my clients are small businesses and have come to me after being dissatisfied with "high street" practices. They are dealing with me the proprietor, the specialist —not an assistant or several different people as they would in a larger firm. Maybe it's this personal service that they like or the lower fees or both.